Being God's Kid - in God's Place

We are learning the incredible story of Queen Esther - who God placed undercover right where He needed her so she could accomplish an important Mission for Him! God has also placed YOU right where He needs YOU so you too can accomplish a Mission for God!

Dads, Moms, Kids - use this page together to review or further explore what was learned at church, or if you weren't able to get to church today, then you can learn and live it out at home! After all, the Church is wherever you are! LET'S GO!

Here are a few discussion questions to get started.
There are no right or wrong answers. Just share what you think, and then work your way down the page learning together!
Besides clothes and essentials, if you could only choose THREE THINGS to take on a year long trip, what would you take?

What is the scariest ride, movie/book or experience you've ever had?

When you are nervous, scared or freaking out - what calms you down the best?

Who is the absolutely nicest person you know?

How can knowing God help you calm down in the middle of a scary situation?
Let's learn about what happened to Esther and how she had to speak up for her people!

Read about Queen Esther's tough choice in Esther Chapter 4.

Queen Esther had to make a choice. Would she go before the king and ask for help - revealing that she was Jewish - or would she say safe and keep her secret?
WATCH IT! Video blogger Luke learns about Character.
Luke is keeping a video blog about what he's learning. Lately, God's been challenging him to work on his character. He tells stories about some of the ways he's had to work on his character. He is learning that character is who you are when no one is looking.
Colossians 3:12-13 God has chosen you and made you his holy people. He loves you. So always do these things: Show mercy to others; be kind, humble, gentle, and patient. Do not be angry with each other, but forgive each other. If someone does wrong to you, then forgive him. Forgive each other because the Lord forgave you.
WHAT DO WE LEARN FROM QUEEN ESTHER?

Because of God's PEACE I can be CALM.
"Peace on Earth" is a phrase you often hear. When you hear the word "peace" you may think of the most common definition, which is people getting along. One meaning of the word peace IS "no fighting." In grown up words, "the absence of conflict." If you aren't arguing or fighting with your siblings or friends, then you are "at peace." But when the Bible talks about peace, it's talking about a different type of peace. It's talking about a calm IN THE MIDDLE of conflict! It's easy to be calm when nothing is going on.
It's easy to be calm in the middle of a quiet situation - like in the middle of meadow on a quiet summer day - not so much in the middle of a storm!
READ: Isaiah 26:3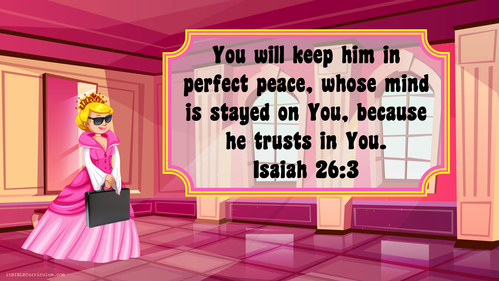 You've probably heard of "meditation." The biblical form of meditation is also different than the worlds. The world says to "empty your mind." Biblical meditation is the opposite. It means to FILL YOUR MIND with prayer, scripture and positive thinking about God and His Truth.
READ: John 14:27
End with the "it": Because of God's PEACE I can be CALM.
And that is why because of God's PLAN, I can be CERTAIN!
TIME TO GET YOUR BIBLES OUT AND RACE TO LOOK UP THESE BIBLE VERSES AND THEN TALK ABOUT THEM AS A FAMILY! How to they relate to the lesson and how can you apply them to you LIFE this week?
Philippians 4:9
2 Thessalonians 3:16
2 Corinthians 13:11
THIS IS OUR THEME VERSE FOR THE ENTIRE SERIES! Work on memorizing this as a family. You have the entire series to work on it. Think of a reward for your family when you all have it memorized!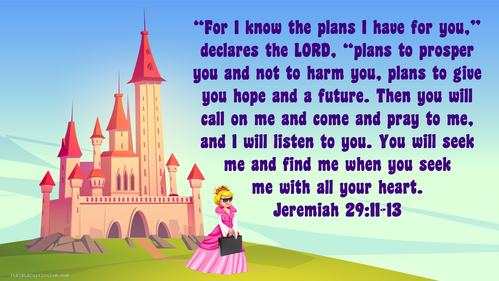 Jeremiah 29:11 is a very popular verse. It is taught and memorized by many, and for good reason. But seldom do pastors and teachers point out that it is a conditional promise. Do you know what a conditional promise is? An example would be when Mom or Day say, "I'll let you stay up later if you clean your room." Can you think of some other examples of conditional promises? They are promises that are made with a condition attached. It is important to point out that many verses in the Bible, such as Jeremiah 29:11, are part of a larger chapter. That's why it is verse eleven. There are verses before and after it. This wonderful verse makes several promises. Plans to prosper you! Plans not to harm you! Plans to give you hope and a future! Wow, those are wonderful promises, aren't they? But they are not automatic. They are a result of a relationship with God. The next two verses describe that relationship. What does it look like?
• You will call on me.
• You will pray to me (and God will listen).
• You will seek me (and God will be found) IF
• You seek with all your heart.
THE POINT: If you want all those wonderful promises from God – good plans, prosperous plans, hope and a future – you have to do your part: Call on God, pray to God, seek Him with all your heart. It's a relationship. It goes both ways.
Queen Esther's story is amazing! But the stories in the Bible aren't there just to enjoy - they are there as EXAMPLES to learn from! How can we apply this lesson to our lives? Here is your Mission Assignment for this week:
Find a quiet place in your house where you can get alone
and be quiet before God. Take a few minutes each day to
debrief with the G.O.D. Ask Him how you are doing and if He has an assignment for you. Listen and then act. Meet with God in SECRET!